We are delighted to announce our latest achievement and a UK industry first - an accommodation solution that aligns with JCOP 10.1 section 13 Temporary Buildings and Accommodation. In fact, our offering surpasses legislations having secured an impressive 60-minute REI rating in tests.
The accommodation units have been manufactured in collaboration with industry-leading fire experts and following extensive tests the 6m and 9.5m units have been approved for us. The rigorous testing included joint connection assessments, multiple floor simulations under load, module-to-module connection evaluations, and fire-stopping performance.
The results showed an impressive 60-minute REI (Resistance to Fire, Integrity, and Insulation) accreditation for the entire system, covering floors, walls, and roofs.
To meet the needs of our clients, we will supply two options. The first is a JCOP 10.1 compliant version with a 30-minute REI, providing a solid foundation for fire safety. For those requiring even greater resistance, our enhanced version boasts an impressive 60-minute REI, setting a new standard for safety and reliability.  Both are/will be available in 6m and 9.5m units.
These testing procedures align with HSG168, JCOP 10.1, and LPS1195 standards, the units also contain no PIR (Polyisocyanurate) and PU (Polyurethane) foams ensuring the highest quality and safety for our products.
This development is another step forward as we work to continuously go above and beyond for our clients to deliver quality temporary accommodation solutions to our clients.
What does JCOP10.1 mean?
This set of standards outlines the scope for projects utilising temporary site accommodation, particularly those with a main contract value of £2.5 million or above. It also encompasses smaller value contracts that are part of larger projects.
JCOP10.1 is not merely a procedural formality – it provides the basis of the insurance contract associated with the project. Failure to comply could have serious ramifications, potentially leading to the cessation or withdrawal of insurance coverage.
For clarity, temporary buildings, as per JCOP10.1, are broadly defined as "prefabricated cabins, site huts, cargo containers, caravans, portable, modular, and sectional buildings brought to the site for use as offices, stores, workshops, welfare facilities, etc., during the course of the works."
To align with JCOP10.1 standards, several key requirements must be met:
Separation from the Building Under Construction: Temporary buildings should be strategically separated from the building under construction or refurbishment by a fire break, ideally a 10-meter clear space.
Fire Rating for Limited Breaks: In instances where achieving a minimum 6-meter break is not feasible, the temporary building must be fire-rated in accordance with section 13.3 of the code.
Increased Break for High-Risk Buildings: The 6-meter break requirement is augmented to 20 meters when the building under construction falls under the category of a high-risk structure, such as a large timber-framed edifice. Meeting this recommended fire break (6m or 20m) alleviates the need for additional special requirements for temporary buildings.
Height Restrictions: Temporary buildings should not exceed a storey height above 18 meters, inclusive of any gantry on which the temporary structure is installed.
Understanding and adhering to these JCOP10.1 standards are crucial for project managers, contractors, and stakeholders involved in construction projects. Compliance not only ensures the safety and integrity of the construction site but also safeguards the insurance coverage essential for project continuity. As the construction industry evolves, staying abreast of such standards becomes integral to fostering a culture of safety and compliance in the built environment.
Contact us for more information and to explore these cutting-edge temporary accommodation units.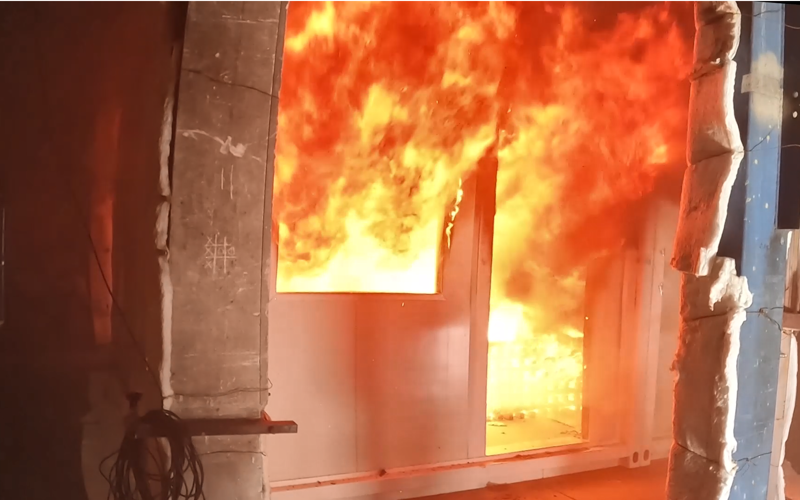 Testing Our Units
Watch our compelling modular burn test video now and witness firsthand the exceptional performance that sets us apart from the rest of the industry!